Bathroom Cleaning Service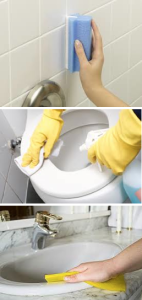 Many customers call upon our  company to thoroughly disinfect and clean their bathrooms. Our residential housekeepers take great care in combating soap scum and other unsightly buildup to insure a clean and shiny bathroom.
Our routine residential bathroom cleaning begins with removing rugs and excess hair from floors. After removing cobwebs and dusting pictures, blinds, shelves and baseboards, the housekeeping staff removes all the items from your shower to apply a highly-concentrated tile and grout cleaner. We thoroughly wipe your tub and shower surround, making fixtures shine while removing any built-up soap residue.
Your TopMaid.US housekeeper then cleans, dries and shines all mirrors, chrome and tile, making sure to thoroughly clean your vanity, sink and toilet. We then sweep and mop floors and empty the trash.
You can feel confident that you will have a clean bathroom without any worries. Services will also offer you a 100% satisfaction guarantee and will make every effort to correct any issues.
As a professional cleaning company, we take pride in our work, which means we guarantee your bathroom will shine.
What bathroom cleaning services do we provide?
Professional TopMaid.US, will do a thorough and efficient job of making your bathroom spotless and sanitized. Some of the tasks that will be performed are listed below.
1. Cleaning and sanitizing toilets, showers, bathtubs, vanities, sinks and backsplashes.
2. Scrubbing floors.
3. Cleaning mirrors.
4. Polishing chrome.
5. Wiping down baseboards.
Bathroom Cleaning Services Call us: (951) 579-6667